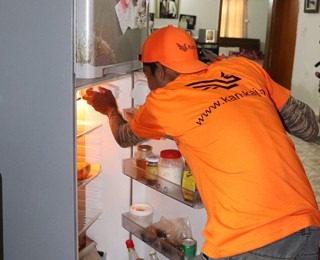 Refrigerators are an essential part of every home since quite some time now. It is one of the most used electric appliances in our kitchens. Be it leftover food from last night or your weekly meal preps, all goes in the refrigerator. To keep our food
to get rotten, refrigerator has to keep working round the clock. This might cause some inefficiency for which Kam Kaj provides its customers the best available refrigerator repair services. You may avail these services by simply giving us a call.
Common Refrigerator Problems
The five most widely known refrigerators problems are leaking water on the floor, freezer not functioning properly, frequent unit cycling, warming of fruit compartment, and building up of ice inside the refrigerator. In case any of these problems occurs in our refrigerator, it starts to bother us immediately. It is important not to delay refrigerator repair services because small ignored problems can accumulate and cause bigger issue, which may be expensive.

Where to Find Kam Kaj Refrigerator Services
Kam Kaj does not limit to the above mentioned refrigerator repair services, but also provides any other assistance required by the customer. With minimum fee charges, Kam Kaj also provides home consultation. To get advantage of Kam Kaj refrigerator repairservices in Karachi and Lahore, you may either fill a form or give us a call. Moreover, Kam Kaj soon intends to operate in the whole country and with the being said, every citizen would be able to find reliable services for their refrigerator repair in Pakistan.