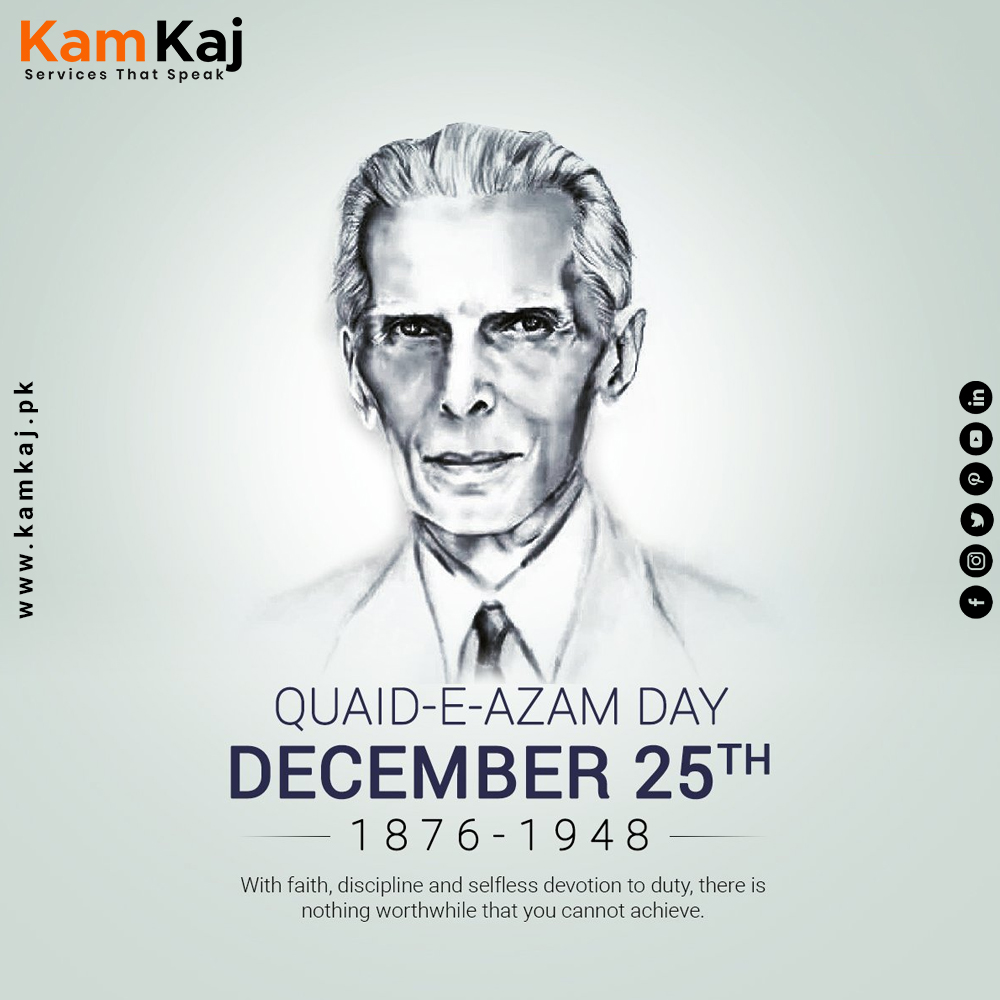 As we enter December, we as a nation begin preparations to celebrate the birthday of one of the greatest human beings in history, whom we call the father of the Nation, Quaid-e-Azam Muhammad Ali Jinnah. He was the great constitutionalist, a high-level politician, a dynamic Muslim leader, a political strategist, and the first Governor-General of Pakistan.
Quaid-e-Azam Muhammad Ali Jinnah was born on December 25, 1986. Every year on December 25, we express our deepest love to Quaid-e-Azam for his tireless work with his team day and night and as a result, Pakistan emerged on the world map in 1947, which we call our home and should be proud of it. Quaid-e-Azam remained faithful and firm to the cause of our homeland and his courage and leadership united the Muslims of the subcontinent and made Pakistan a reality.
He had a multidimensional personality and his achievements in other fields were remarkable. He was considered as one of the greatest lawyers in India. He is said to have explained his point of view in court based on law and his approach to legal issues was scientific and straightforward. Even the most complex facts became simple and clear when he laid his hands on them.
Quaid-e-Azam became the first Governor General of Pakistan on August 15, 1947. The new country faced many challenges including lack of resources, rehabilitation of refugees,non-availability of a workable system, financial farming of the new constitution and financial affairs. Despite sever health issue, he dealt with these problems with the courage in a way that his parallel could never be found in the history of the world.
Quaid-e-Azam Muhammad Ali Jinnah is honored not only in Pakistan but also by prominent world leaders who have spoken highly of him. He received tribute from everyone he met or had a close relationship with because of his intelligence, courage, honesty, and strong beliefs.
Beverly Nicholas, author of "Verdict on India", called him "Asia's most important man", the Aga Khan considered him "the greatest man he has ever met", The Governor of West Bengal in 1948, Dr. Kailash Nath Katju described him as "a great figure not only in India but in the whole world", John Biggs Dawson, a Conservative MP in Britain said,: "Although without Gandhi, India would still be free and without Lenin and Mao, Russia and China would still have endured the communist revolution, Pakistan would not have created in 1947 without Jinnah.
The American historian Stanley Wolpert wrote in his 1984 book Jinnah of Pakistan: "Very few people make significant changes in the history, fewer still modify the world map. Hardly anyone is credited with creating a nation-state... Muhammad Ali Jinnah did all three.
However, to sum up, the words of Surat Chandra Bose, the leader of the Forward Bloc wing of the Indian National Congress, has said that, "Mr. Jinnah was a great
lawyer, great as a Congressman, great as a leader of Muslims, great as a world politician and diplomat, and greatest man of action. Since the death of Mr. Jinnah, the world lost one of the greatest statesmen and Pakistan its life-giver, philosopher and guide.
The best way to express our love and gratitude for him is to try to adapt some of his personality and character traits in our daily lives. We KamKaj, a service providing company, promises to play its part in the country's economic development. Our goal is to be the backbone of economic stability in Pakistan. Kamj intends to do so by creating employment and building offices across the country, including in remote areas of Pakistan.