Why You Should Choose Kam Kaj Home Salon Services
Women are the most important part of any society, and every woman needs a relaxing pampering session to look relaxed and healthy. But, usually, due to their heavy work and stressful life, they don't find enough time to visit the parlor and avail the services. This is where the Home Salon Services becomes very beneficial. The benefits of home salon services are also cannot be neglected in light of the spread of COVID-19 when it is more appropriate and safer to avail services at your doorstep to stay safe from this highly contagious virus.
Benefits of Home Salon Service
There are many benefits of home Salon Services including it saves your time, booking any service is quick and easy, prevents traveling hazards, and most importantly you get pampered in the comfort of your home.
Let us explain a few benefits you should consider when booking a Kam Kaj Home Salon appointment.
It Saves Your Valuable Time:
Doorstep beauty salon services save your precious time to find the right salon for yourself and then following up for an appointment. You can avail yourself of Home Salon Services in your free time without getting stuck in traffic jams.
Comfortable:
Is there any place more comfortable than your home? So why visit a salon, when you can bring salon at home. Our home salon services allow you to get beauty treatment whilst reading a magazine or book, watching TV, and listening to music.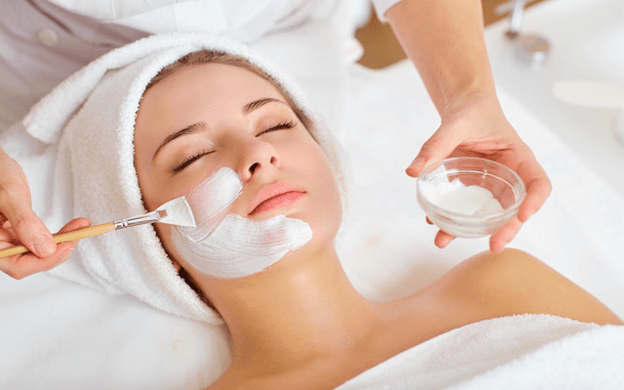 Easy and Convenient Appointments:
It's easy to book Kam Kaj Home Salon appointments. You can book Kam Kaj beautician by filling out a form on our app or by just a call. You can easily and quickly select the date and time of appointment as per your schedule.
Undivided Attention
In a salon, there are many more clients to take care of with you, and you will often notice, especially during the festive season, that the beautician will rush to complete your treatment as many other clients are waiting. It does not happen at a home Salon, where you will get undivided attention and exclusive care.
Cost-Effective
Kam Kaj home salon services can also save you a lot of money. Our self-care services are cost-effective than conventional salons. You don't have to travel to the salon and eventually you'll save the traveling cost. Also, you will get an amazing weekly, monthly, or festive discount offers.
Quality Products:
Kam Kaj offers imported and premium lines of products that you will not find in most local salons. We use high-quality, top-notch products that are 100% safe and suit best for your skin and hair.
Post Treatment Showers:
Many beauty treatments, such as body scrubs, massages, waxing, etc, can leave anyone feels like taking a quick shower, and they need to endure this feeling for as long as they are arriving at home. Home salon services make it convenient for you to hop the shower instantly right after the beauty treatment.
Customers' Safety:
During this COVID-19 pandemic, it is safe to stay at your home and avail of doorstep services. We are providing expert home beautician services with all the safety precautions. Customer safety and satisfaction are always our top-most priority. Our in-house beauticians are background verified and we follow strict safety and hygiene standards.
Services We Are Offering
Whether you want a flawless massage, manicure & Pedicure for yourself, and body waxing for smooth skin, we have got you covered. Here are some of the Kam Kaj Home Beauty services you can avail of without leaving the house:
Massage
Kam Kaj offers full body massage and head oiling services at your doorstep. We have the best massage therapist team who knows which pressure points to press and make your stress go away so you can feel comfortable in your own body.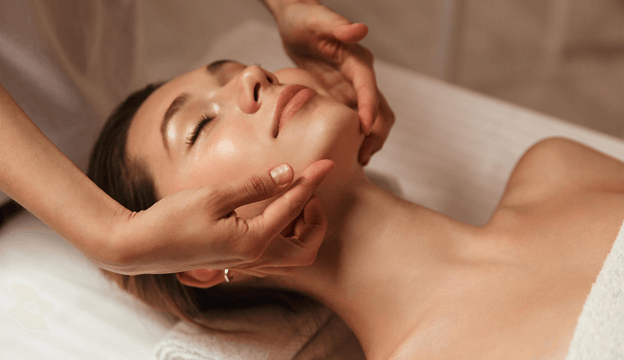 Waxing
Get rid of all pesky ingrown hairs on your body, legs, or arms by our natural and chemical-free waxing treatment that will not cause you any trouble if you have any kind of skin sensitivity.
Mani & Pedi Services
Kam Kaj offers a wide range of manicure and pedicure services that you can avail of and beautify your hands and your feet in the comfort of your home. Our Mani & Pedi procedure is specially designed to address and treat numerous foot and nail ailments.
Makeup
Kam Kaj is offering all kinds of doorstep Makeup services on just a call. If you need Soft Makeup, Party Makeup, Hair Styling, Bridal Makeup, Engagement, Mayon & Mehendi Makeup, we are just a call away!
Face Threading
We have expert beauticians who will shape your eyebrows, remove unwanted hair from your upper lip, forehead, and face with threading hair removal methods.
Face Waxing
If you are not comfortable with threading, try our facial waxing that is best to shape your eyebrows and remove unwanted hair from your upper lips, forehead, and full face.
Hair Styling
Whether you want a completely new look or need a trim, our hairstylist will first consult you about your preferred look and will create that look for you. Also, our beauty expert will offer you a hairstyle that suits your lifestyle and face shape.
Facial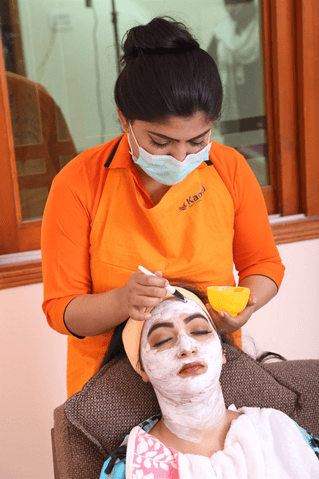 The dust and pollution in the city like Karachi and Lahore make it imperative to pamper your skin. Even as a house-women, your face goes through lots of heat in the kitchen every day. Try our facial services that leave your face feeling fresh, rejuvenated, and renewed from the daily stresses of life. It helps you get rid of dead skin, remove dirt, clear clogged pores, and give a healthy, young and fresh look.
Body Scrub
When your skin looks and feels great, your confidence will often boost instantly. Pamper your skin with our body scrub that will give you a new look and help remove the dullness from your skin.
At Kam Kaj, we have the best and well-trained in-house professional beauticians. We use imported, branded, and high-quality products that are safe for your skin and hair. Availing Kam Kaj services is super easy, all you have to do is to either call us or download our app and avail yourself of the service you desire.