Choosing the Best Colour for Repainting Your Home & Office
Most structures in Pakistan, be it residential, commercial, or government (especially hospitals), have off-white walls and true-white ceilings. White paint has become a norm in Pakistan and is the first thing that comes into every mind when getting their home or office repainted.
Although white is a fine colour, we don't agree wholeheartedly with everyone choosing just white as their home or office's background. Some homeowners and public builders have finally started to challenge this norm by painting their walls a different colour – a very public example of this includes the Agha Khan University hospital's trademark brick-red.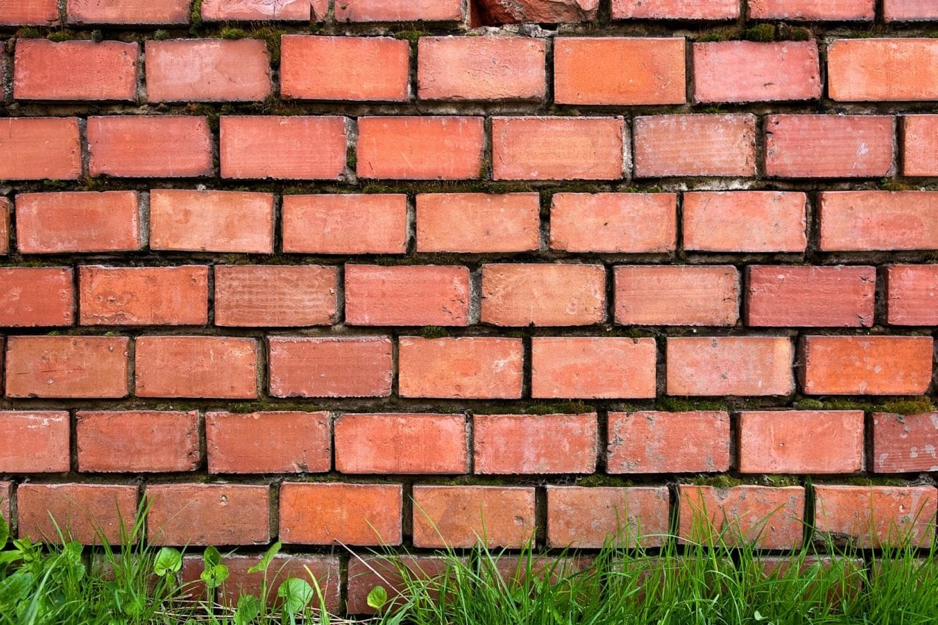 Image Source: https://pixnio.com/architecture/walls/red-wall-pattern-old-texture-brick-wall-grass-architecture-construction
Choosing the right colour can take you a long way when it comes to helping you relax, increase productivity, and even help you heal! But choosing said colour can prove extremely difficult and, if done wrong, can not only set you back thousands of rupees, but also waste your precious time and efforts.
You might love lavender colour, for example, but it might end up having adverse psychological impact on residents, employees or patients!
We asked Kam Kaj professional interior painters in Karachi and our own research team for their valuable insight on which colour is best suited for offices and homes, and here is what they suggested, keeping in mind not only your place's aesthetic but also the need to have positive psychological impacts on all!
Choosing The Best Paint Colour For Home & Office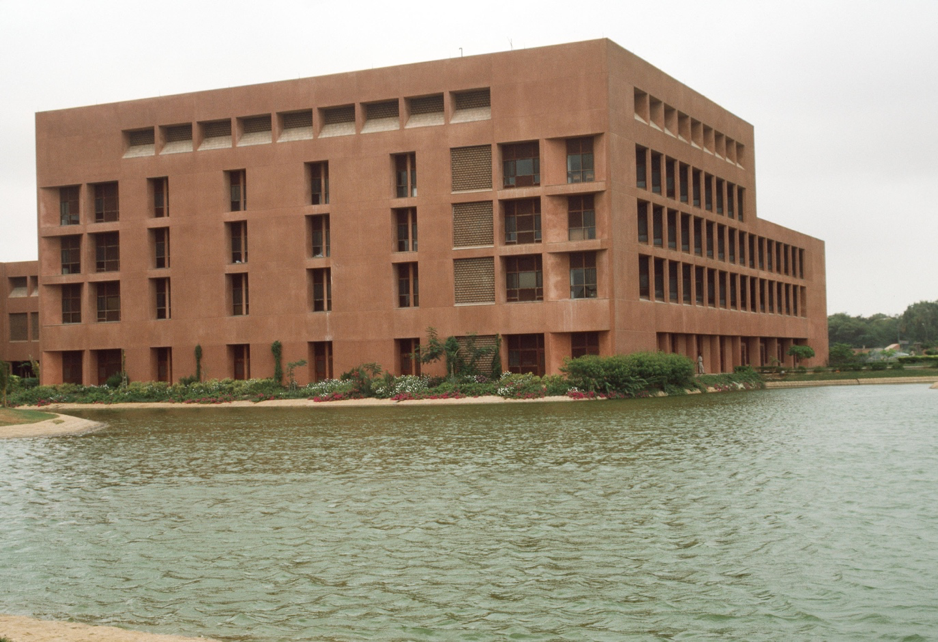 Image Source: https://upload.wikimedia.org/wikipedia/commons/b/b1/Agha_Khan_Hospital_Karachi_-_panoramio.jpg
As mentioned above, Agha Khan Hospital has brick-red walls instead of white and a much more focused approach on greenery and rockery. This is because white in hospitals gives off a more clinical and surgical feel, making patients feel subconsciously intimidated.
Brick-red, on the other hand, gives off a much more welcoming and homey feel – something that has much to do with most of Pakistan's rural houses being made up of red bricks.
However, researchers have also found that red increases the speed of nervous activity, thus increasing the intensity of emotions we feel and leading to anxiety and worry – so how could that be good for a patient?
The answer is simple; it depends on the colour's intensity. Brick red isn't anywhere near as intense as that of an ambulance's siren, which is a much more intense variant of the colour.
This shows us that even the slightest change in colour can have drastic impacts on our psychological health, and you should be extremely careful when choosing which colour to choose.
Choosing The Best Interior Paint In Karachi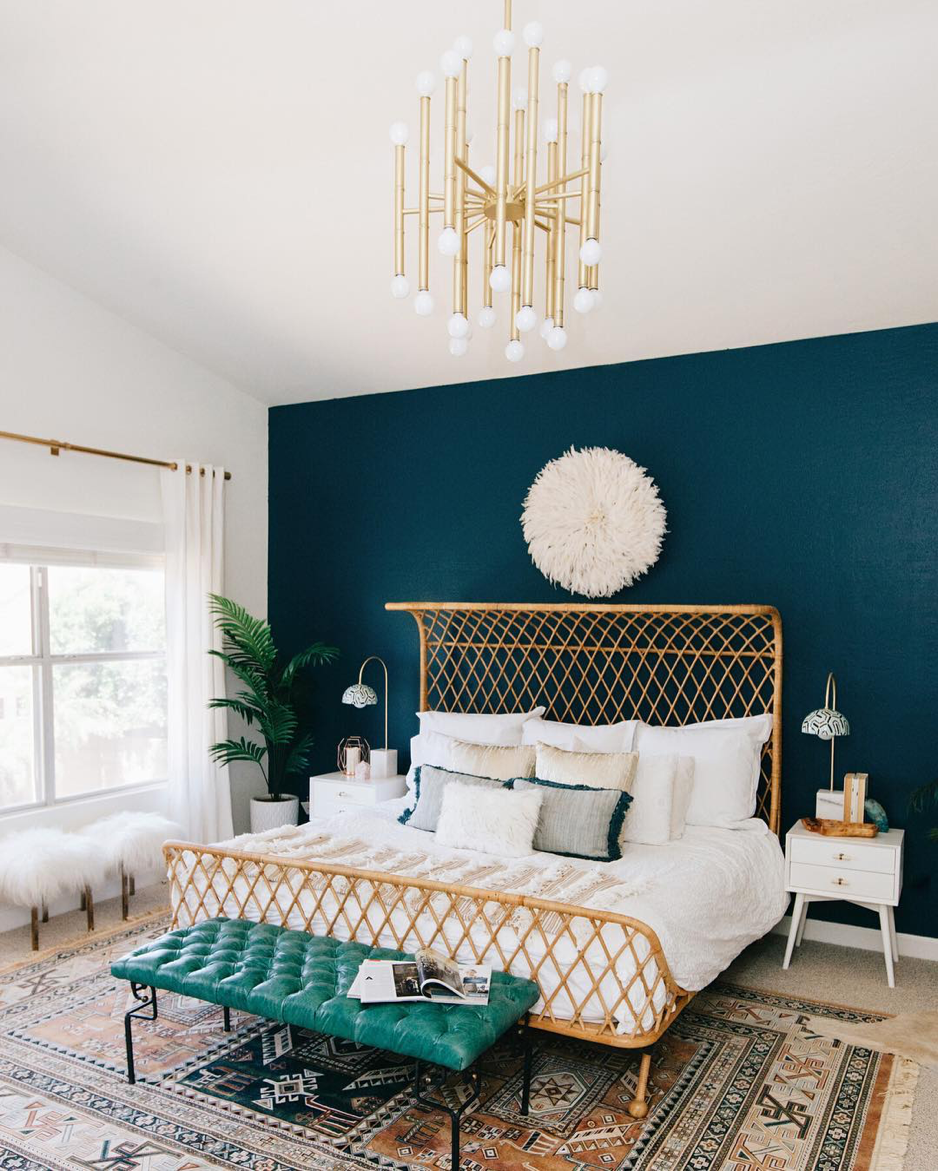 Image Source: https://www.flickr.com/photos/designmilk/28546040466
Houses aren't only for relaxing, much like office work isn't just contained to one type of work. Even within a single company or firm, staff is distributed to conduct a wide range of tasks.
While some include physical exertion and continuously venting out energy, some include immense mental prowess and collaboration – while some places are meant for rest and relaxation.
There are different effects colours can have in an environment, as shown below, so you should choose carefully which paint to use in which room.
Primary Colours
Blue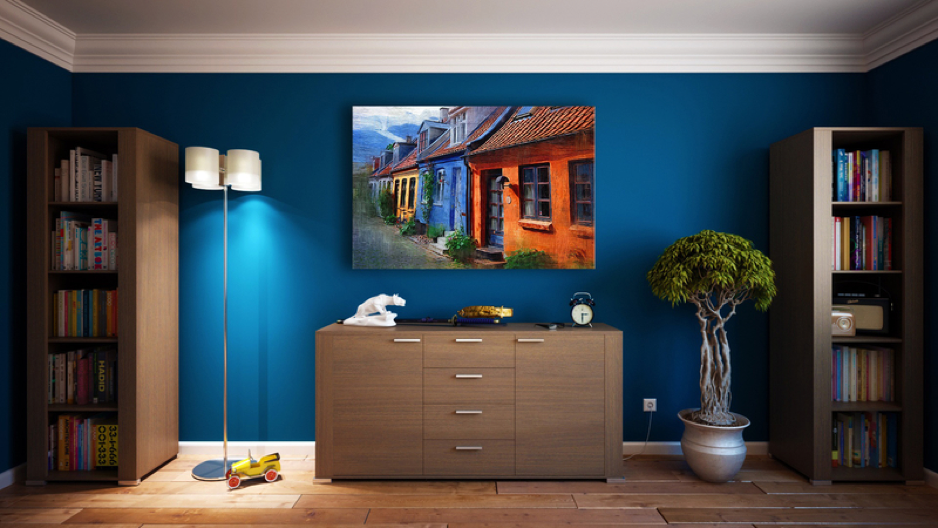 Image Source: https://www.goodfreephotos.com/other-photos/rooms/room-with-painting-on-the-wall.jpg.php
Blue stimulates the mind, leading to more productivity. Painting your walls blue can help your employees stay focused in repetitive industries, and keep residents at home from being lazy.
Microsoft's Word is a prime example of how blue can help increase productivity while keeping you calm. Its blue theme has helped many students complete their book reports or university projects on time, without urging them to smash their laptops on the wall.
Red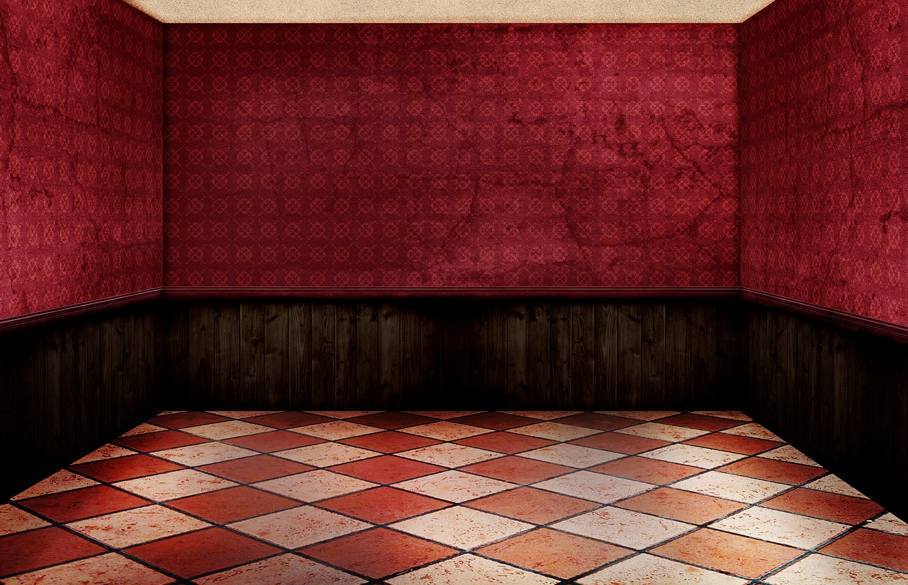 Image Source: https://pixabay.com/illustrations/room-empty-interior-floor-tiles-2185942/
As mentioned above, the colour red evokes a sense of urgency in a person – especially useful for people whose jobs are more physical or need to get things done quickly.
At homes, red can help you vent out your emotions easily and relax, regardless of whether you're angry or sad.
Yellow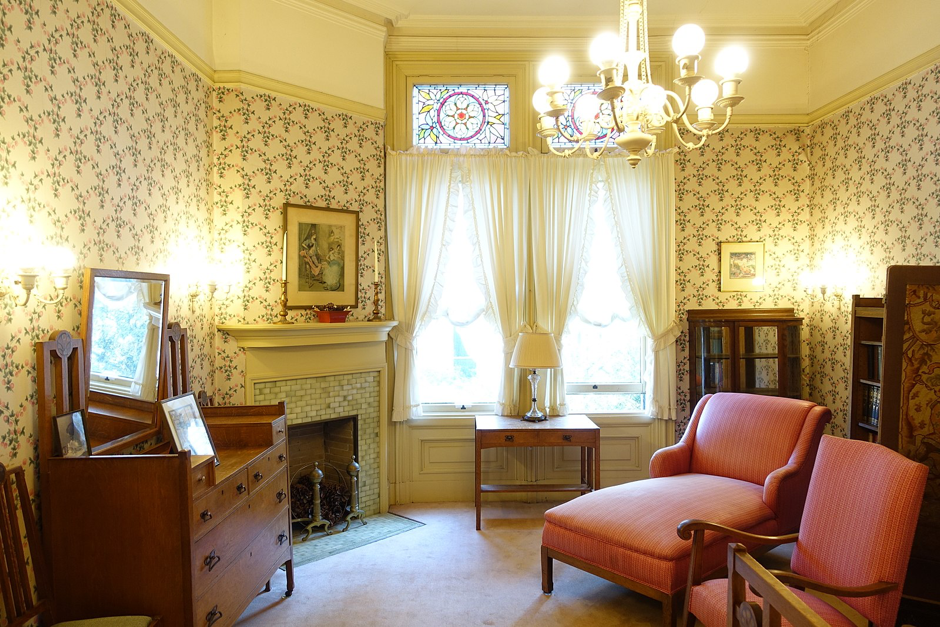 Image Source: https://commons.wikimedia.org/wiki/File:Back_bedroom_-_Haas-Lilienthal_House_-_San_Francisco,_CA_-_DSC05086.JPG
Yellow incites emotions, making it an ideal colour for the more creative industries and homes. For companies or people who focus on creativity such as publishing houses, painters, writers, or marketing firms, yellow can help brighten spirits, stimulate creativity, and improve emotional stability.
Green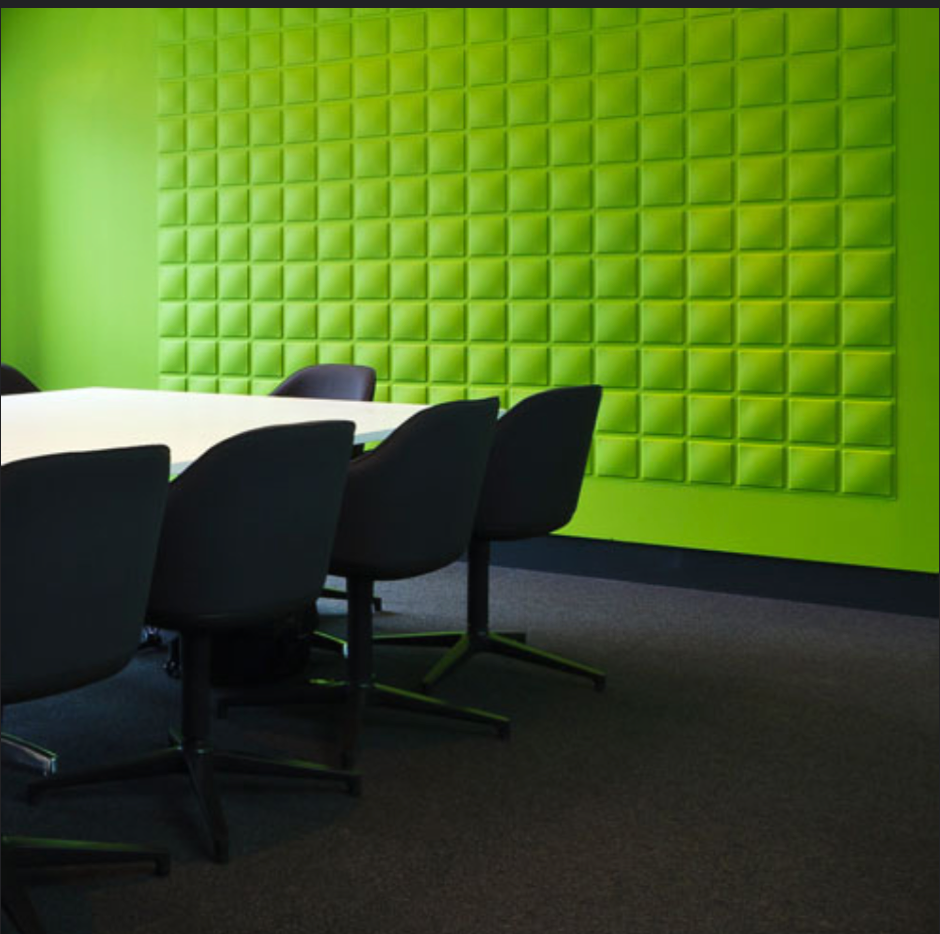 Image Source: https://www.flickr.com/photos/mywallart3dwall/7628116714
The colour green has numerous psychological affects. It improves balance and instils calmness and reassurance. Besides being the Pakistani flag's dominant colour, green paint proves useful in many homes and offices due to its positive impacts and its calming capabilities.
It is usually a good idea to have a 'silence' or 'quiet' room with at least one wall painted green because of its natural aesthetical appeal.
Keep in mind, though, that the paint must be seamless and should be done properly, preferably by professionals. To get guaranteed quality interior paint services in Karachi, we recommend you hire professional painters from Kam Kaj.
Secondary Colours
Primary colours combine in different proportions to create the plethora of colours we see. Not only do these new colours have novel properties of their own, they also take in many positive properties of their parent colour.
Yellow combined with red makes orange, taking in the happiness of yellow and passionate energy of red.
Similarly, red's passionate energy and urgency combines with blue's productivity to give purple, a colour with all the mentioned qualities as well as its association with royalty, power, and feminine designs.
Off-White
While true-white has a strict appearance, off-white has a much softer facade. Experts from Kam Kaj can help you decorate your office's walls and ceilings appropriately with this and every other colour, if you so desire.
Teal/Light Blue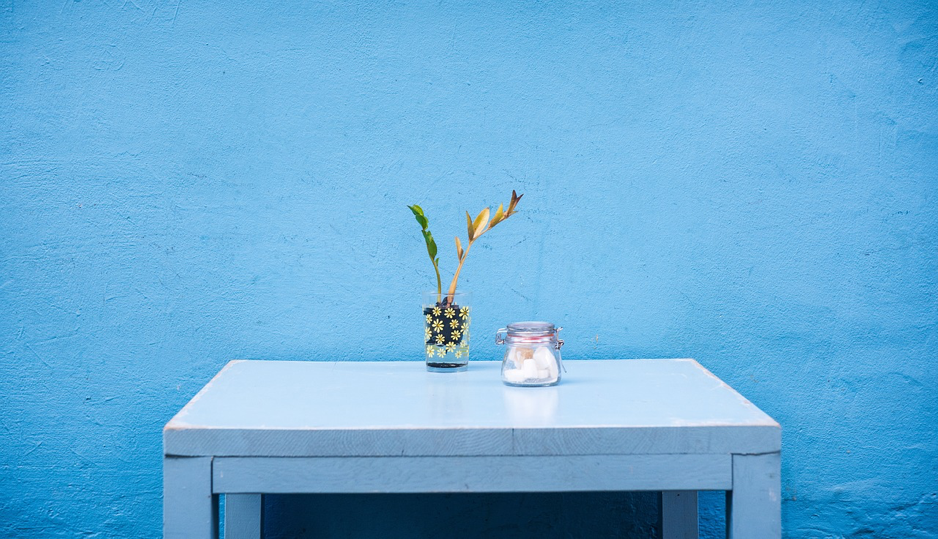 Image Source: https://pixabay.com/photos/furniture-table-interior-home-room-731449/
The combination of blue and green can make your office a powerhouse of production because of the parent colours' positive impact on productivity. However, too much of this colour can be a bit too calming and lead to lethargy and procrastination, especially at homes.
This colour is a good choice for offices where you have to deal with nervous customers daily, typically a doctor.
Grey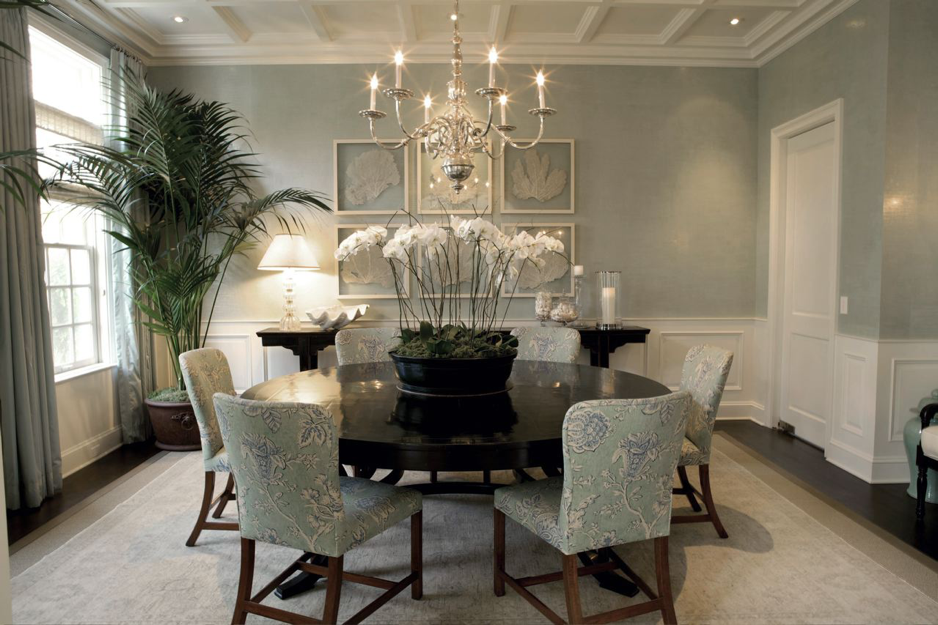 Image Source: https://commons.wikimedia.org/wiki/File:مبلمان_اداری.jpg
Grey combines black and white to give off neutral vibes that serve to mediate strong emotions, regardless of whether they are negative or positive. While it is good when used occasionally – on borders, for example – too much of it can lead to your employees, clients, or yourself feeling slightly melancholy.
In dining rooms, the colour can help you avoid mood swings and maintain quality conversations without straying too far from topic.
Blue-Grey
The blue-grey mix can give off a clean and tidy vibe in the corporate and legal world. Neither is this mix too moody or gloomy, nor is it too happy. For homes, these mediated properties make it the perfect choice for infant's rooms.
Brown
Brown signifies power and strength, along with giving off a natural vibe. This colour works extremely well when used for backdrops for houses, industries, or offices alike where authority needs to be absolute.
Orange

Image Source: https://www.pexels.com/photo/couch-hallway-red-walls-sofa-840912/
As mentioned above, orange can be a very empowering colour, taking in the positive aspects of yellow and red. It can help re-energize your employees in the morning, after breaks, or at late nights alike.
However, painting all the walls orange might be a little too intense and can have tiring affects on your employees and residents, and can give off a feeling much similar to having 'too much coffee'.
All the above suggestions are meant only to be used in moderation and to add accent to your structure's aesthetic. In order to choose the best paint colour for your house and office's interior, you should hire professional interior painters in Karachi.
We recommend hiring professionals from Kam Kaj for guaranteed quality services and expert advice on which colour to use and where. They can help you decide how to trim windows, doors, and wall borders, advise on accents, and help you explore all your design options. Whether you're looking to repaint your home's walls or office's interior, look no further than
Kam Kaj
and enjoy fully guaranteed and insured services at your fingertips!