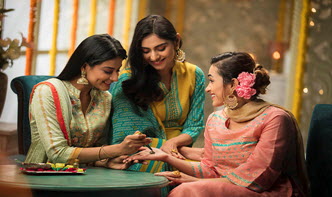 Under the sparkling lights, the busy stalls for Mehndi are set up throughout the country for the Eid celebration.

The night before Eid, many women and families visit these stalls, which are filled with chatters of festivities, as families pick up the last pieces needed to perfect their outfits for the next day.

Since ancient times, wearing henna and bangles went hand in hand with times of togetherness and celebrations. Especially when it comes to the celebration of Eid.

The act of buying bangles and getting henna in your hands is considered part of a long tradition of festivities and adornment. To apply Mehndi during the time of celebration in South Asia goes beyond the time we can imagine.

Henna or Mehndi comes from the LawsoniaInermis plant which can be found all across near Eastern Asia and the Middle East. It binds to the keratin of your skin, creating a temporary tattoo-like appearance on the hands, nails, and body. It often appears as a bright red or orange-brown hue. It is said that the drier the soil of the plant, the richer the color of the henna it produces.

Mehndi has been one of the earliest forms of body adornment. They have often been used as markers of celebrations of special occasions and festivities during rites of passage, and religious symbols were often added to female bodies using Mehndi.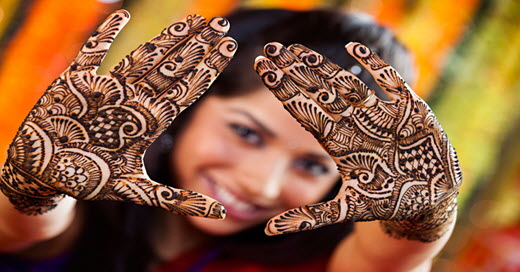 However, over time bangles and Mehndi are simply worn as symbols of beauty and ornaments. With much of the bangle stocks and Mehndi design made from henna leaves and added preservatives.

In Pakistan, Mehndi and new bangles are worn during times of holidays of Eid-ul-Fitr and Eid-ul-Adha.

While so many Mehndi produced nowadays have artificial dying agents and chemicals, even though the natural plant has many medicinal and herbal properties.

Pure henna is often used in areas with hot climates as a cooling balm or natural sunblock for hair and limbs. It has also been used to combat fungal infections and as an insect repellent. Some even believe that it has the power to cure headaches, wounds from burns, and sunburn.

Due to the coronavirus, there has been a strict precaution to take before pre-Eid activities. Which also includes Mehandi application at stalls. But you don't have to around the crowd and risk your safety anymore. Kam Kaj is offering premium Mehndi service right at the comfort of your home.
FINAL THOUGHT

Although, it is a difficult idea to imagine the holidays without traditional large gatherings and rituals having Mehndi on hands still remains an essential part of Eid festivities. They are important ways through which women have expressed themselves, and have come together to celebrate the many blessings of Eid.