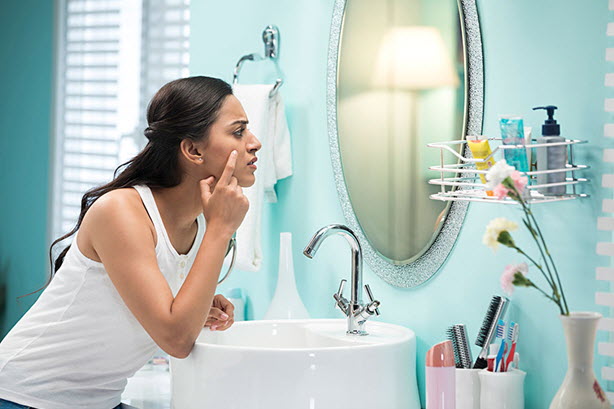 Festive Troubled Skin Is A Real Thing - Here's How To Avoid It

The festive season always seems to go hand-hand with some kind of skin difficulty - whether it's a breakout, patchy, or puffy skin.

Could it be the needed festive diet of red meat, desserts, and all the big buffet food? Or could all those tiring days of hosting be making us a little lazy with our skincare regime?

2020 had been hard enough, so this year we are making an extra effort the dreaded troubled face - and the good news is, it doesn't mean you have to cut out delicious festive food.

What Causes It?
The increase in refined carbohydrates, sugar, fatty foods, and dairy products we often enjoy during Eid Festivities can lead to breakouts. While consumption of sugary drinks dehydrates the skin, causing it to look puffy as it tries to preserve water.

Devouring sugary foods and drinks results in a quick rise in blood sugar, which causes a spike in insulin. Which is the cause of increased oil production and inflammation which results in a breakout.

Meanwhile, fats and red meat products can also trigger acne - due to elevated hormone levels.

But it's not just our diets and soft drinking habits over the festive period. Spend excessive time indoors can cause many skin problems due to lack of fresh air and all the residue at your home.

Added to that, staying indoors during the humid season can also affect your skin. Heating causes the air to become sticky, which in turn makes skin feel rough and sensitive and can result in conditions such as eczema.

Changes in skin routines may also contribute. Many people start changing their skincare regime due to more time over the festive period, while some stop bothering altogether due to loss of routine.

How Can You Avoid It?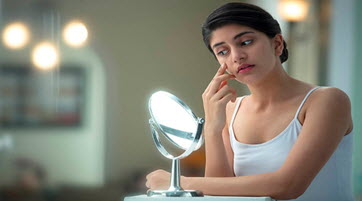 So what can we do to avoid troubled festive skin? There are a few steps that you can take to the festive period to prepare your skin.

Make sure your skin is well hydrated. Moisturize regularly, even people with oily skin should moisturize to prevent skin dehydration as dehydration can lead to excess oil production which then leads to acne and breakouts.

Even if you aren't going to wear as much makeup, you should still wash your face twice a day to prevent the build-up of dead skin and bacteria.

Keep well hydrated by drinking water and try alternating your carbohydrate drinks with water to minimize dehydration.

If you do end up having a breakout, it's essential to avoid touching your face. Don't pick or squeeze your spots and try to avoid touching your face. Limit heavy makeup, especially if you're wearing a mask.

You may need to use thicker creams rather than lotions if your skin is dry, but make sure all your skin products are acne friendly - aka non-comedogenic and non-oily.

If your face feels dry or irritated then use a gentle face wash. If you are getting repeated breakouts then try exfoliating using salicylic acid once or twice a week.

There are also oils soluble which means it will clean deep into pores, this can be found in washes or toners.

Final Thoughts

If you want to prep your skin before the special occasion it is better to get some professional help and you don't even need to leave the comfort of your own home, just contact Kam kaj for your personal home salon.