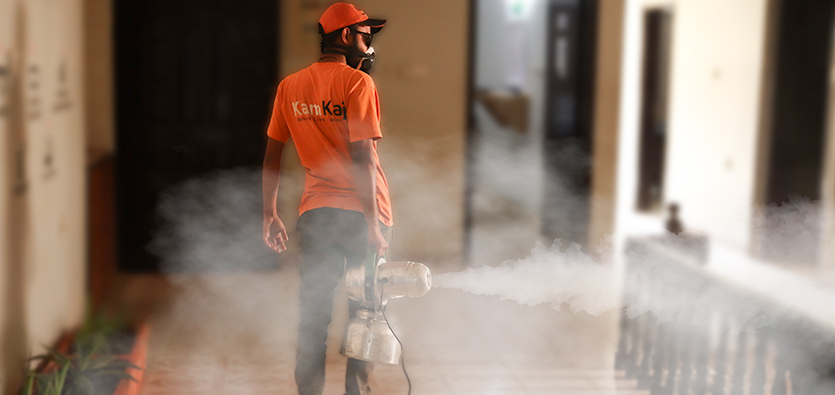 Finding pestsin your home and near you is never fun at all, and getting rid of pesky insects or rodents is no easy feat. If you want to avoid harsh chemicals that could harm you and your family, don't worry; this article will definitely help you.

If you are living in Karachi and looking for pest control services, you have come to the right place! Fumigation services in Karachi are one of the best ways to get rid of pests and keep your home and business environment safe and healthy. In this blog article, we will discuss what is fumigation, its benefits, the types of services available in Karachi, how to choose a reliable fumigation service, and much more. So, let's get started!

What is fumigation?
Fumigation is a pest control method involving using a gas or vapor to kill pests such as insects, rodents, and other pests. It is a safe, efficient, and cost-effective way to get rid of pests in an area. The gas or vapor is released into a specific area and it works to kill the pests and their eggs.

When it comes to fumigation, there are two types of services available - low-pressure fumigation and high-pressure fumigation. Low-pressure fumigation is a more affordable option, and it is used for smaller areas such as homes, restaurants, and other commercial establishments. High-pressure fumigation is used for larger areas such as warehouses, storage facilities, and other industrial sites

Are Regular pest services important?
Many of us always wait until we noticed a problem before taking action. But waiting until there's a problem poses risk;It's difficult to know how severe the pest damage is when you finally notice it.
That's why we recommend taking preventative measures with regular pest control treatments by professionals.

Mosquitoes and Dengue sprays:
Dengue mosquitoes have been a threat to us for a long time since the dengue infection just spread through mosquitoes. These are not ordinary mosquitoes that bite you, suck up blood and leave whereas these are heavily infectious due to the dengue virus they carry in themselves.

The irritation of mosquito bites and the risk of diseases has added to the menace of people living in Pakistan. The city of Karachi and Lahore areespecially affected by mosquitoes due to the garbage problem. A single mosquito bite is potentially taking away people's lives caused by dengue or malaria on daily basis.

In such worst environmental conditions, mosquito control becomes an essentially growing need in our homes and neigh boyhoods. Kam Kaj Pest control professionals do wonder with the use of authentic safe medicines and no negative impact on human health and the environment. Professionals know the procedures and medicines that only remove pests without harming any other living and non-living object/human.

Pest control and fumigation professionalsspray pesticides to kill developing insects like cockroaches, bed bugs, ants, mosquitoes, etc. but in the second case of pest infestation, there will be a requirement to treat each pest with effective medicines and according to their life cycle.

Why pest control is important?
Pest control and fumigation is the requirement of all facilities like offices, homes, warehouses, industries, restaurants, etc. pest control sprays keep your area protected and safe from unwantedpests and diseases. Thesepests spread quickly and become harmful and sometimes cause irritation and allergy like asthma, malaria, dengue, and gastro infections.

Which company is best for pest control?
For pest control and fumigation services in Karachi for corporate vicinity, you should ensure that Vendor must have sufficient knowledge to understand the specific needs and should have effective solutions for your facility. Each facility has different problems and dynamics. A good vendor always offers you a customized solution to the current problems. If you are looking for the best and most reliable company for pest services so you are right place because Kam Kaj brings you the best cleaning services right in your city.

Book pest inspections:
Pest control should be a top priority for your home and offices too, there are also several other methods of pest control that you could also explore but pest professionalinspection measures not only take care of any problem you may be facing now but also in the future. At one phone call our representatives will send a professional worker to your home to clean it up.

Final Thoughts:
Fumigation services in Karachi are one of the best ways to get rid of pests and keep your home and business environment safe and healthy. It is a safe, efficient, and cost-effective way to get rid of pests in an area. There are a number of different types of fumigation services available in Karachi, so it is important to do your research and choose the best service for your needs. When it comes to preparing for fumigation services, it is important to vacate the area, remove food items, cover furniture, and seal off the area. It is also important to follow up with regular maintenance in order to keep pests from re-infesting the area.

The cost of fumigation in Karachi varies depending on the size of the area and the type of fumigation services chosen, but generally, it ranges from Rs. 500 to Rs. 5000. so don't worry because there's still time to make your home safe and healthy.

Relevant Questions:
1: Why pest control is important?
Pest control and fumigation is the requirement of all facilities like offices, homes, warehouses, industries, restaurants, etc. pest control sprays keep your area protected and safe from unwantedpests and diseases.

2: Are pest control chemicals safe?
Yes, pest control professionals use authentic and safe medicines without negative impacts on human health and the environment.

3: How pest control works?
pest infestation there will be a requirement to treat each pest with effective medicines and according to their life cycle.

4: Can pest control get rid of mice?
Yes, Pest control and fumigation professional's sprays pesticides to kill developing insects like cockroaches, bed bugs, ants, rats, mosquitoes etc