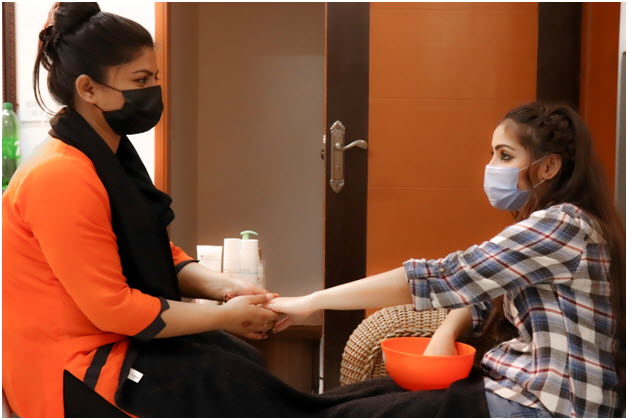 There are many benefits of home Salon Services including saving your time, booking any service fast and easy, prevents traveling strains, and most importantly you get pampered right in the comfort of your home.
Here is why you should consider booking a Kam Kaj home salon appointment:
It Saves Your Precious Time:
Kam kaj beauty salon services save your precious time to find the right salon for yourself and then following up with an appointment and whatnot. Why go anywhere when you can avail services of the salon in your free time and from the comfort of your home? No more getting stuck in traffic jams.
Comfortable:
Is there any place more comfortable than home? So why visit a salon, when you can bring salon at home? Our home salon services allow you to get beauty treatment whilst listening to your favorite music, reading a magazine or book, or even binging your favorite show.
Easy and Convenient Appointments:
It's easy to book a Kam Kaj Home Salon appointment. You can book Kam Kaj specialists by downloading our app or visiting our website. You can easily and quickly select the date and time of appointment as per your schedule.
Undivided Attention:
When you visit the salon it kind of distracting because you are not the only client. The staff's attention keeps wavering and it takes all the fun out of visiting the salon in the first place. It does not happen at a home salon, where you will get undivided attention and exclusive care.
Worth Every Penny:
Kam Kaj home salon services can also save you a lot of money. Our self-care services are cost-effective than most conventional salons. You don't have to travel to the salon and eventually you'll save the traveling cost. Also, you will get an amazing weekly, monthly, or festive discount offers.
Quality Products:
Kam Kaj offers imported and premium lines of products that you will not find in most local salons. We use high-quality, top-notch products that are 100% safe and suit best for your skin and hair.