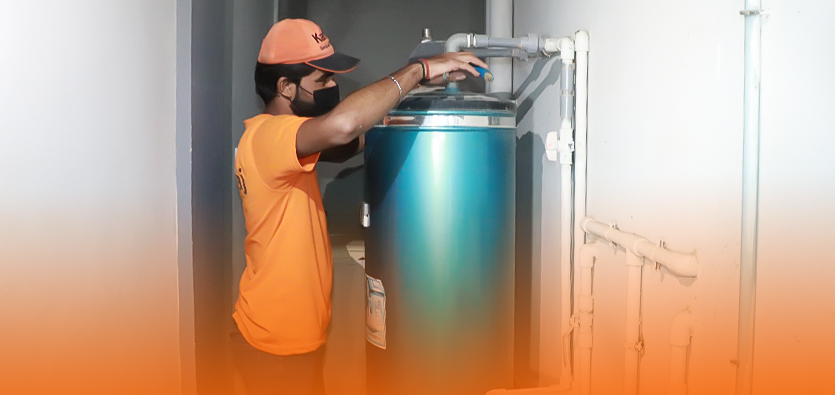 As winter arrives In Pakistan the temperature can drop below but the need for geysers increases as well. Making daily morning rituals quite strenuous. Especially in the winter water heater is a must in homes and offices as well. In Pakistan, a water heater is sometimes referred to as a geyser. An efficient water heater is critical for the comfort and functionality of your home.

Water heaters and geysers are a boon, but they may be tricky. You should always take precautions when using an electric or gas heater. And always try to fix any kind of electrical problem with the help of professionals.

Geyser installation
If you are looking to install geysers or maintenance of geysers as the winter breeze approaches, Kam Kaj is your one-stop solution for all your worries. Our professional team can fix your all problems at your doorstep with only one phone call.

Why do you need geyser maintenance?
A regularly maintained water heater will last longer than one that hasn't been cared for properly. Regular servicing can prevent major repairs down the road by catching problems early on before they get out of hand and are expensive. Due to minerals being dissolved in water (high calcium and magnesium). This can cause the accumulation of deposits on the heating elements of a water geyser, which can then reduce performance or even damage the heating element or geyser. If not maintained correctly, a water heater can leak or even explode, resulting in costly home repairs, injuries, or death so don't take risks and always maintain your water geyser through us.

How gas geyser works
A gas geyser works by heating water with the use of a gas burner located below a big tank form where the water is delivered through the pipes. In the course of heating, pressure accumulates in a gas geyser and the pressure valve intervenes and discharges the pressure.

How to repair a gas geyser?
Geysers can sometimes be repaired depending on the type of failure and the age of your water heater. For example, if the faulty element can be replaced like a thermostat, a pressure control valve, or a pipe then a repair is possible. However, not all geyser failures can be repaired.

Concerning Gas geyser repair services, we are skilled and able to provide you with:
Gas hot water heater repair and maintenance
The burner/Lighter/Flame not working
Maintenance
Not heating up
Coil replacement
The water heater gas valve leaking

Gas geysers are delicate equipment that requires gas plumbers for any repairing or troubleshooting service. If you have a faulty gas geyser in your home or commercial property that needs repair, book an appointment online or call us today. Our experienced team is available to provide emergency gas geyser repair services in your town and the surrounding areas.

Geyser repair services near me?
Did you wake up one morning and notice that your geyser has stopped working without knowing exactly what happened? Well, electrical appliances often have this nasty habit of unexpectedly failing without warning.

Sometimes they even send us signals before collapsing but we do not always notice them or neglect them. Geysers can experience troubles at any time. The best way to avoid this is to do regular maintenance on your geyser from time to time. For the best and most reliable geyser repairing services so feel free to call us, Kam Kaj's professional team brings you a satisfactory solution for your problem.

Relevant questions
1: How much does geyser maintenance service cost?
The geyser maintenance service will depend upon the type of services you need.

2: Do you provide home geyser service?
Yes, Kam Kaj provides all kind of repair maintenance services In the comfort of your home.