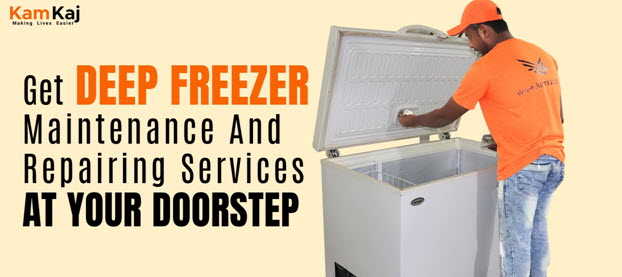 A respectable and registered Deep Freezer Maintenance Company provides you with the best and highest level quality of maintenance to repair deep freezer service.
Deep freezers play the most significant role in our daily lives, ensuring our food is kept at the appropriate cold degree, and maintaining the quality level of your food.

How To Keep Your Deep Freezer In Long Lasting Condition
To ensure the long-lasting life of your deep freezer one must get regular servicing and maintenance done to keep it performing at its best. All appliances require care and appropriate electricity service, especially the refrigerator and deep freezer to keep your food at its best level.
Ever since technology has advanced, so have our lives, nowadays you longer have to wait for someone to find you some strange handyman.
Risk Of Hiring A Stranger For Deep Freezer Maintenance Services
While doing so, you are taking multiple chances such as: Letting a strange man into your house, the repairman probably has zero experience whatsoever, can cause further damage to your deep freezer. A simple deep freezer maintenance service can turn into a significant financial or possibly even physical problem for you.
A vetted Fridge Repair Service providing Company work speaks for itself with its superior and affordable deep freezer maintenance and repair service.

Requirements For Proper Deep Freezer Maintenance
"Remain Frozen" is pretty much a must requirement for any type of deep freezer.
Anything short of that means melting and thawing and other undesirable mishaps begin on the day and then it is time to throw away your food and money out of the window.
That's why when your deep freezer is on the verge of starting to cause disturbance then you might need to get the maintenance it needs as fast as possible.
Time to contact a reliable and trustworthy Home Appliance Repairing Company immediately, and in no time they are right at your doorstep. For your deep freezer maintenance service, and fully certified and vetted technician will be at your home whenever you are available.

The benefit of hiring a Refrigerator Repairing Technician from a registered company is the right choice. They are always having highly trained, courteous technicians who are trained to repair and provide maintenance to all sorts of deep freezer and refrigerator brands.
Whether your deep freezer is a newer or older model. After a thorough diagnosis of your appliance, they likely have the parts at hand to quickly and professionally get most routine repairs done during the initial service call. Should we need to come back, we provide priority service to get back to you as soon as the part comes into our shop.

Judging The Competency Workmanship
The speedy appliance company only employs technicians with ten or more years of experience in the field. They are both factory and industry-trained, which means they know exactly what they are doing when they diagnose the problem and repair any home appliance problem on any brand made in the past 20-to-30 years. Reliable home technicians are fully insured and bonded and arrive at your home in company-branded vehicles and uniforms.

How Soon Can You Receive Deep Freezer Maintenance Service?
These days, many Home Appliance Repair companies gladly schedule home visits as far as 2-to-3 weeks out from the day of your initial contact.
Technicians are placed throughout a wide service area, and you are expected to respond with same-day service whenever possible. Most of the time for you being lucky enough when "wait" for you is typically no more than a few hours, and will get in touch with you within 30 minutes of arriving at your home.

Cost To Expect From Door-Step Service
Many repair companies you might call, charge you for a service call/diagnostic fee when you move forward with the repair. But a respectable Home Appliance Repair and Maintenance Company will adjust it to your later on the bill.
Schedule Your Appointment Today
With these concerns and criteria out of the way, isn't it time to schedule your appointment? If it is about time to provide maintenance to your refrigerator, deep freezer, Washing Machine Repair, clothes dryer, stove/oven/cooktop, dishwasher, microwave oven, and other home appliances, you need to be serviced don't wait for too long.
An established home appliance company provides a service, 365 days a year. For non-emergencies, you will simply need to complete an online form to schedule service or use the company's app.