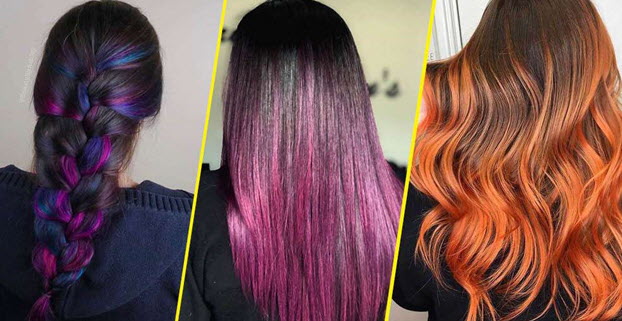 It's often said that your hairstyle is the one part of your look that you wear every day; unlike clothes, our hair doesn't usually end up in the laundry basket. How a person wears their hair says as much about how they want to present themselves as their fashion choices, but it's important that a hairstyle suits our natural appearance whilst reflecting our tastes.
Skin Tone vs. Undertone
Now, most people can generally tell whether they have a fair, medium, or dark skin tone, but when it comes to the colors that you'll find are the most flattering, it gets a little more complicated.
There's tone – the surface color of the skin – and then there's the undertone. Undertone is the subtle hue beneath the surface of your skin; this is the key to finding out your ideal color palette (FYI, it also applies to makeup, clothing, and jewelry). Whilst the surface color of our skin can change, skin undertone never changes (even if you've got a tan!), so it's a much better way to determine which colors you do suit.
Non-Natural Colors
You didn't think we'd neglect to mention unicorn hair colors, did you?! Nowadays, it's all about non-natural hues; from pretty pastels to bold neon shades, technicolor hair is where it's at. However, the skin tone/skin undertone rule still applies; the color of your hair can lift your skin or leave it looking sallow – no matter how bright it may be.
Pastel pink shades are ideal for those with fair, cool complexions. If you've got warm undertones, pastel blue-hues will reveal your inner glow; think pastels like lavender, baby blue, or aqua (after all, everyone secretly wants to be a mermaid!).
Vibrant jewel colors like fuchsia or magenta enhance the depth and natural glow of medium to dark skin tones (especially those with cool undertones). Compliment a medium skin tone that's got warm undertones with jewel-hued blues and aqua colors; if you're really into the idea of lighter non-natural colors, consider an ombré pastel hair color with natural-looking roots.
Dark skin with cool undertones can pull off color-popping purples; vivid violets, bright purple pinks, and even slightly blue hues are perfect for making a statement. Those with warmer undertones will find deeper purples like plum and ruby more flattering since they'll enhance the natural radiance of your skin.
Hair Colors For Neutral Skin Undertones
If your skin undertone is neutral, you'll probably need to focus more on what suits your skin tone (based on its surface color). You should always think about the texture, weight, length, and overall health of your hair, as well as its current (and natural) color before reaching for the dye. Book a consultation with your colorist to discuss your options before committing to a new color.