Are you tired of surface-level cleaning in your home? Do you want a truly fresh and pristine living space?
When it comes to cleaning your home or office, there are two main options available: deep cleaning services with machines or manual cleaning by maids. Both approaches have their advantages and disadvantages, and the choice ultimately depends on your individual needs and preferences.
Manual Cleaning by Maids:
Maid cleaning is a basic service that focuses on tidying up visible areas and maintaining a general level of cleanliness. While this is great for day-to-day maintenance because manual cleaning by maids is the traditional approach to cleaning, maids clean your home or office using cleaning tools such as mops, brooms, and dusters. This approach is suitable for daily or weekly cleaning tasks, but it may not be effective for more stubborn dirt or stains.
Deep Cleaning:
Deep cleaning, is ideal for those who want to give their home a fresh start. It's perfect for spring cleaning, moving in or out of a home, or preparing for a special event. Deep cleaning involves a more thorough cleaning process that may include tasks like scrubbing baseboards, cleaning light fixtures, cleaning fans and walls, and deep cleaning your complete space with pressure washers and a scrubbing machine.
Detailed cleaning:
Deep cleaning is an essential service that goes beyond the regular cleaning routine of your home or office. It involves a thorough and detailed cleaning of every nook and cranny, leaving your space spotless and pristine. Our deep cleaning service includes cleaning all surfaces, including floors, walls, and ceilings. We also clean all high-touch surfaces, such as doorknobs, light switches, and countertops.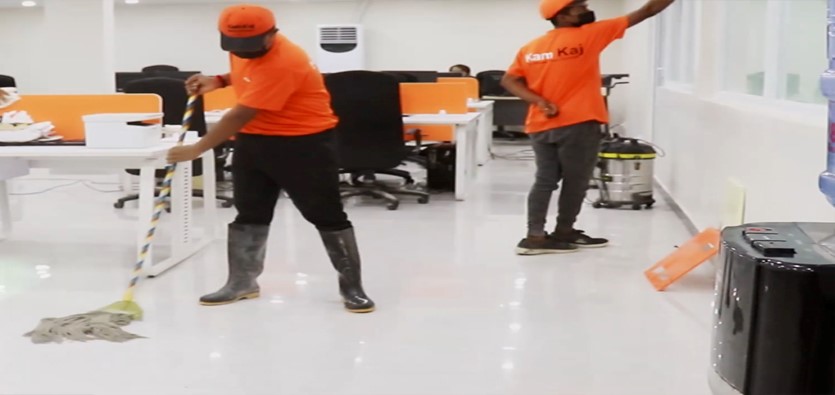 Our professional cleaners pay special attention to bathrooms and kitchens, making sure they are thoroughly scrubbed and cleaned. Additionally, we clean and dust all furniture, blinds, and other items to eliminate dust and allergens that can accumulate over time. With our deep cleaning service, you can be sure that your home or office is not just clean but also a healthy and safe environment for you and your loved ones.
In conclusion, while maid cleaning is great for maintaining a basic level of cleanliness, deep cleaning is the best option when you want a truly fresh and pristine living space. So, why settle for a surface-level clean when you can have a deep clean that leaves your home looking and feeling brand new?
Contact us:
if you're looking for the best and most effective deep cleaning service for your residential or commercial space so no look further Kam Kaj brings you the best and expert deep cleaning services right at your doorstep you can contact us through WhatsApp at
Tel:+923041111526
or visit our website at
www.kamkaj.pk