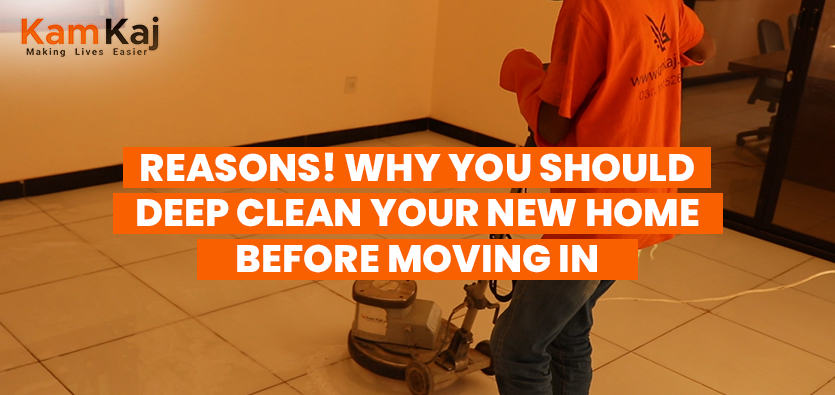 Moving into a new house is a big deal. It requires lots of effort and energy to pack and unpack. In the meantime, cleaning the house is another important thing that must be noticed while shifting. it is very important to deep clean your house before moving in. If you are still thinking about, why you should deep clean your home, then let me help you figure out the 'why.' Here's a list of reasons to deep clean your house that cannot be overlooked before moving into a new home.
1.Perfect solution for Pests

Deep cleaning will keep the pests at bay. A home with no human invasion is the perfect place for pests. Deep cleaning not only offers shine and beauty to your place. It also ensures your family's health by not allowing unwanted pest infestation.

2.Eliminate Residual Dust and Allergens:

Even homes that appear clean can harbor residual dust and allergens. Deep cleaning involves cleaning corners, crevices, and hidden spots that accumulate dust over time. This process ensures that you and your family can breathe easier and enjoy a healthier indoor environment.

3.Create a Fresh Start:

Moving into a new home signifies a fresh start, and what better way to embrace this new beginning than with a sparkling clean space? Deep cleaning removes any traces of the previous occupants, allowing you to truly make the space your own from day one.

4.Identify and Address Maintenance Issues:

Deep cleaning provides an opportunity to closely inspect your new home. You might discover minor maintenance issues like leaky faucets, loose tiles, or chipped paint. Identifying these concerns early on allows you to address them before they potentially escalate.

5.Enhance Aesthetic Appeal:

Deep cleaning can significantly enhance the overall aesthetic appeal of your home. Clean windows, spotless surfaces, and polished floors contribute to a visually pleasing environment that you'll be proud to show off to guests.

6.Ensure a Thorough Kitchen and Bathrooms:

The kitchen and bathrooms are high-traffic areas that require extra attention. Deep cleaning ensures that these spaces are hygienic and free from hidden germs and bacteria, providing peace of mind when you use them.

7.Personalize Your Space:

Deep cleaning allows you to move furniture and belongings into a clean environment. This is especially important for items that will be in direct contact with floors or surfaces.
In conclusion, deep cleaning your new home before moving in is a crucial step that offers immediate and long-term benefits. From improved indoor air quality to a fresh start in your new space, if you want to deep clean your house, that's almost the first and last step in the process. Kam Kaj Professional deep cleaning services are available out there that can make your life much easier. Our professional services can also be customized per your needs, like cleaning a single room, a specific spot, whole-house cleaning, etc. Hire our professional and verified cleaning services at Kam Kaj to live a healthy, happy, and stress-free life.