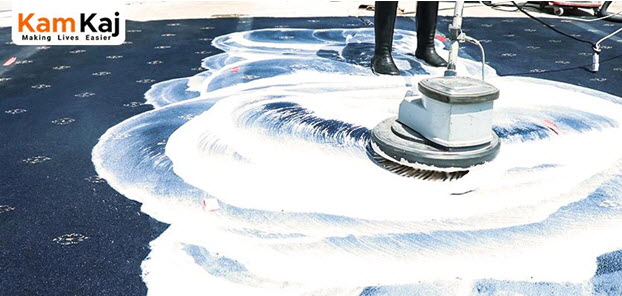 There is no lie when it comes to saying that everything will smell delightful when once you get rid of all the dust, girt, and let's not forget the fresh linens in your bedroom.

But one thing is relatively hard to maintain to keep clean. And that is one part of the room that makes the most of it. It is none other than the carpet. But do not fret if you do make a stain. There are a couple of tricks to wipe out some of them as quickly as possible, but then there are some of the stains that are so tough that they demand your sweat and blood.

For your help, here are some tips and tricks if you are planning on cleaning your carpet on your own using a maybe start with the vacuum, but you have to be very cautious as it can turn into a total wreck if you are somewhat inexperienced. So, it is okay to admit that you need a professional carpet cleaning service. Just click on the app, and professional carpet cleaning services are at your doorstep.
● Make sure your while cleaning carpet is firmly fitted to avoid any potential shrink. It is also practical to remove your furniture beforehand. Otherwise, you will have to move it around while cleaning the carpet.

● It is best to make sure you cover your furniture and casters beforehand to avoid rust forming and clouding on the equipment and staining while cleaning the carpet.

● Pretreat heavily soiled or stained areas with a pre-spotter or Carpet Cleaning or whatever chemical you are using. But make sure to follow the manufacturer's instructions to get the Best Carpet Cleaning results.

● Absolutely make sure to remove any plastic residue in advance or any solid components from the carpet's surface before you start the vacuuming process on the carpet. If you are not careful enough there is a high possibility of causing damage to both your vacuum cleaner and your Carpet Cleaning process.

● Remove the soil from the thwart container of your vacuum before the Carpet Cleaning process from the front of the unit and rinse it out to remove any remaining dirt. So, it won't mess up your clean cleaning process.

● Use this container to transport the mixture of water and cleaning solution to the machine. Mix one measure of cleaning solution as marked on the tank with two gallons of clean hot water in the dirty water container. Fill the rear clean water time with the mixture if you spill a small amount, wipe it up immediately if you drop a significant amount. Stop and contact your local domestic cleaning services.
● Here is another little piece of advice, replace the empty soiled water container in the front of the vacuum unit and put the transparent plastic cover back on instead.

● If your vacuum cleaning is divided into three parts then pay attention to the following assembly instructions loosen the lock collar on both the trigger section and the floor piece insert the alloy tube into the end piece. Ensuring, the small diameter internal Tube lines up with the pacifier inside the end section. This trick will get you to the carpet cleaning process much more efficiently.

● Use overlaying cuffs to treat about one square meter at a time-setting advancement and the sweeping head. Delivering the trigger at the end of each cuff to refill the nozzle with the water to avoid over-wetting carpet cleaning to prevent shrinkage.

● Never spray any part more than twice. Go over the same area without compressing the trigger to suck up the dirt with water and continue to vacuum. Till there is no grimy water is visible through the hardcover then move to the next area of the carpet cleaner. Now stops spraying or if foam liquid emerges from the exhaust switch off or unplug it.

● Remove and empty the grimy water from the container and rinse it out thoroughly and refill the rear clean water tank will is supposed to provide you with both vacuuming and spraying pumps at the same time.

● The soiled water container can now be removed and emptied down to be finally able to be drained. Unplug the vacuum from its power supply and allow the hoses to drain neatly.

So, there are plenty of immeasurable deals to get your carpet cleaning done by yourself. Nevertheless, they are undoubtedly going to take your whole day and make you exhausted. While you are at the entire carpet cleaning ordeal, let's utterly not forget that those chemicals you are purchasing come with plenty of warnings hazards and if one is not careful enough, it can cause some serious damage. Apart from all those troubles, you are willing to take multiple tasks all at once. Do not forget the various vacuum settings that are going to take forever.

FINAL THOUGHTS
But there thanks to technology there are plenty of ways which can take care of carpet cleaning business for you within a reasonable price meanwhile giving you guaranteeing service you and absolute deserve with the satisfaction.
P.S: Leave your windows open to help dry the carpets but don't turn the heating up as this may dry the carpet too quickly causing them to shrink.