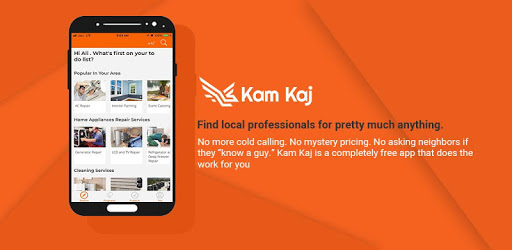 This is just a short re-introduction of Kam Kaj, one of the most successful and the most popular handymen service providers in Pakistan. For years, we have served the nation with our high-quality services, trusted employees and well-done jobs. This blog is just another attempt to reconnect with our readers and customers. We wish to enlarge our areas of interest by informing people what makes Kam Kaj the best solution for your domestic problems.
Why go for Kam Kaj?

There are many reasons why you should always chose to hire Kam Kaj workers. After all, we are a trusted and experienced handymen service provider company. We have been in the market for years and have gained the trust of our customers with our diligence and reliability. You don't need to wander in the neighborhood trying to find the right guy for the job. You just have to pick up your phone, select the required service, dial our number and wait for our response. We will contact you, confirm your order and then send a professional to take care of the job. Let us explain a few reasons why you should totally check out our service.

Budget-friendly

There is a misconception among the masses that online services are expensive and a middle-class family can't afford them. Kam Kaj here pledges to refute this wrong belief. We promise high-quality services with average wages. We wish to be budget-friendly. It's our goal that the most suitable handymen service provider company for you needs to be within the reach and grasp of common people. Gone are the days where you have to pay a crazily higher price for better and more reliable job. Kam Kaj professionals provide better service than a normal street-wandering novice. But our rates are reasonable and affordable.

Easy & Online

No need to ask for ask around the neighborhood for a plumber, wait for him to open his own shop and then haggle with him for his wages. Now, with the help of Kam Kaj - the perfect handymen service provider in Pakistan, you can just give us a call and we will send a professional to handle your job for you. Online solutions are always easy. If you can book a ride to your office, order food online and take college lessons via internet, why not call domestic workers home with one tap of your finger? Electricians, plumbers, AC technicians, trained cleaners, fumigators and others. You name it, we provide it.

Background-verified handymen

All our handymen are trusted people. We don't hire employees who are sluggish, dishonest or quarrelsome. Our team of professionals interview each candidate who wishes to work for us. The selection committee checks for the following factors in each candidate:
(i) Does he possess a criminal record?

(ii) Can he verify his background with reliable sources?

(iii) Is he mentally and physically active?

(iv) Does he have enough experience in the respective field?

(v) Is he capable of performing the job he is applying for?

After a certain person passes all three phases, only then do we list him as an employee and insert his name in our online databases. Therefore, we make sure that our customers only deal with gentlemen who are perfectly suitable for their tasks and do not cause any danger/problem.

Highly-trained

All our employees are professionals who are well-trained, highly-qualified and experienced handymen. A handymen service provider must not hire those workers who cannot do a good job or prove to be lazy. All our men and women are veterans in their respective fields, love their jobs and know more about their work-fields than any other guy in the market. After the selection examinations are over, our handymen are trained by our professional trainers.

Fully-equipped

The coronavirus pandemic has made it most necessary for the people to stay home, avoid going outside and keeping distance from other human beings. Therefore, an online handymen service provider such as Kam Kaj is an urgent requirement of the year 2020. You don't need to leave the comfort and safety of your home to seek the help of a repairmen if your generator's busted. You can easily call us and our expert handymen will repair the generator as soon as possible for him. Our handymen are all fully-equipped for their jobs. Hence, we make sure that all our employees (i) wear gloves all the time (ii) are equipped with surgical masks (iii) keep themselves covered from head to toe (iv) are highly trained and skilled at their job (v) are medically examined on regular basis (vi) carry antiseptics with them everywhere.

We always respond

A successful handymen service provider needs to be within the reach and access of the public. Hence, Kam Kaj always seek to be a public company where anyone can contact us. We make sure to reply back as soon as possible. Thus, if you have placed an order, trust us that we'll call you back. If we fail to contact you, we will send messages at your number and will keep dialing your phone number again and again until you pick up the damned thing. We believe in never leaving the customer hanging!

Blogs & Stuff

For customer's information, we publish blogs on our website on current topics. You always need to be kept informed because knowledge is power. Our blogs have been helping customers select their required services since 2019. Team Kam Kaj does hope that our readers will find this blog as helpful as our old ones.